Lake District Fossils

Examples of fossils I've found in the Lake District.
Click on the "Group" name for more information.
GRAPTOLITE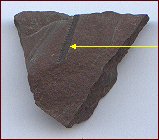 Name - Didymograptus hirundo
Group - Graptolites
Type - Invertebrate
Approximate Age - 430 million years
Found At - Sedburgh, Cumbria, June 1996
Strata Found In - Arenig Series
Geological Period Of Strata - Ordovician
Size Shown In Picture - Actual
Specimen Reference No: 165
Comments - Found on the Sedgwick Trail near Sedburgh.
---
GRAPTOLITES
These are now all extinct, ranging from the Cambrian to the Carboniferous Periods. They were marine colonial animals possibly related to the ancestors of vertebrates (backboned animals). The saw-shaped branches (stipes) which housed the creatures are normally found as fossils crushed flat in shales and slates.
[Back To The Top]
Custom Search





Fossil Facts - What They Are - How They Are Formed - Where To Find Them

Dinosaurs - Cetiosaurus - Compsognathus - Diplodocus - Edmontosaurus
Euoplocephalus - Gallimimus - Giganotosaurus - Heterodontosaurus - Hypsilophodon
Iguanodon - Parasaurolophus - Proceratosaurus - Protoceratops - Rebbachisaurus
Stegoceras - Stegosaurus - Titanosaurus - Triceratops - Tyrannosaurus Rex (T Rex) - Velociraptor

Fossil Finds - Cyprus - Folkestone, UK - Herne Bay, UK - Lake District, UK
Norfolk, UK - Thanet, UK - Walton, UK

Educational Software - Links - Contact Us